Welcome and thank you for taking an interest in joining the Kenilworth Cricket Club family! From age 4+ we have a spot for you and aim to provide a sporting and social environment for all to enjoy the wonderful game of cricket and club life. Whether you are looking to play competitive cricket, returning to cricket after a break, looking for a supportive club environment in which to perfect your skills, or are just a keen cricket supporter looking for social membership, we are sure that we can meet your needs.
Why Kenilworth Cricket Club?
We are a larger club with many teams, so we can offer you the appropriate level of cricket.
Completely voluntary run club putting members and their families at the heart of everything we do.
We are proud of our exceptional facilities including the clubhouse and separate pavilion with balconies.
We take exceptional care of our ground including, our artificial nets, so we can offer our members stunning playing and training facilities.
Our membership covers a wide range of ages, and we offer a full youth section all the way up to senior cricket and social memberships. Our oldest member is over 90.
We have a range of fun social events including end-of-season awards, club nights, quiz nights and our annual race night.
We pride ourselves in developing and challenging players to reach their full potential, without neglecting our social players.
We have a wide and affordable selection of drinks available, as well as mouth-watering teas!
We provide dedicated training to our Colts and all of our coaches are ECB qualified. All Colts are given the opportunity to play games in the summer, while our winter and autumn net sessions provide ideal preparation for the summer matches. Follow the link for more information on junior cricket.
Joining the team
To join Kenilworth Cricket Club all you need to do get in touch with us through any of our social media profiles or from the contact us section.
We accept both playing and non-playing members and membership entitles you to use all of the club's facilities, attend training, and take part in matches.
Your annual subscription covers use of the club's facilities and all training sessions. Our annual subscription is one of the most affordable in the local area and can be paid in installments if necessary.

 @Kenilworth_cricket

 Kenilworth Cricket Club


@kenilworth_cc
Training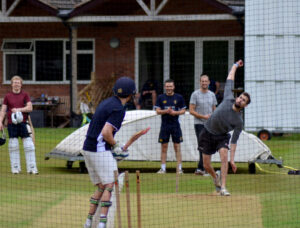 Winter
Indoor winter training is now booked, and open to existing and prospective members. Please see this post for details and come along and get involved with the club.
Summer
We hold training sessions weekly during the summer for all existing, new and prospective members who want to play competitive and social cricket at regional level or below. At these sessions, you'll meet the other club members, enjoy a few friendly games of cricket, and also show off your talents to the team captains, who will then be able to select you into the appropriate squad.
Seniors
Senior training is on Wednesday and Friday evenings starting 30 March 2022. All training sessions are from 6:00pm till 7:45pm.
We look forward to seeing you there and welcoming you to the club.
Colts
Follow the link for more information on junior cricket.
Bad Weather
If there is significant bad weather on a training day then training will not go ahead.