Kenilworth were asked to host Sri Lanka v Israel in the ICC Trophy (World Cup Qualifiers) in 1979. Due to eventual winners Sri Lanka's political stance, they refused to play Israel giving them a bye into the next round. As a result, Kenilworth stepped in to play Israel in a warm up match in Sri Lanka's place.
Team photo KCC v Israel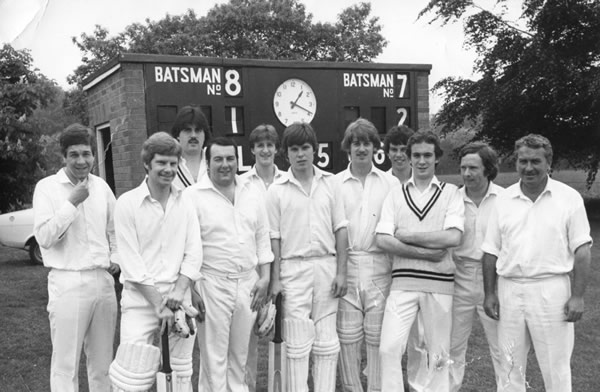 The game was played under ICC rules of 90 overs each and according to a news report at the time was a low scoring but interesting match with Israel coming out victorious.
KENILWORTH INNINGS

| Batsman | How Out | Bowler | Score |
| --- | --- | --- | --- |
| S Westley | ct Moss | Periman | 10 |
| R Courts | ct Monblatt | Periman | 1 |
| P Gibson | ct Kessel | Periman | 13 |
| G Edmunds | LBW | Jacob | 15 |
| I Hutchinson | ct Monblatt | Jacob | 21 |
| A Aston | ct N Reuben | Jacob | 16 |
| S Went | Bowled | R Reuben | 9 |
| A Pare | Run Out | | 24 |
| N Andrew | Not Out | | 13 |
| I Woods | ct Periman | R Reuben | 1 |
| N Dodd | ct Moss | Susser | 1 |
| | |  Extras | 9 |
| | |  TOTAL (all out)  | 133 |
| Bowler | Overs | Maidens | Runs | Wickets |
| --- | --- | --- | --- | --- |
| N Reuben | 13 | 4 | 23 | 0 |
| S Periman | 12 | 5 | 27 | 3 |
| M Jacob | 12 | 5 | 24 | 3 |
| R Reuben | 11 | 5 | 17 | 2 |
| M Monblatt | 8 | 1 | 22 | 0 |
| L Susser | 2.5 | 0 | 9 | 1 |
ISRAEL INNINGS
| Batsman | How Out | Bowler | Score |
| --- | --- | --- | --- |
| D Moss | Bowled | Woods | 32 |
| L Susser | ct Gibson | Dodd | 11 |
| S Periman | st Gibson | Edmunds | 15 |
| I Soleman | Bowled | Andrew | 28 |
| M Monblatt | Bowled | Dodd | 26 |
| Z Moshe | Run Out | | 10 |
| H Horowitz | Not Out | | 1 |
| Y Kessel | Not Out | | 1 |
| | |  Extras | 10 |
| | |  TOTAL (5 wkts) | 134 |
| Bowler | Overs | Maidens | Runs | Wickets |
| --- | --- | --- | --- | --- |
| N Dodd | 12 | 0 | 39 | 2 |
| N Andrew | 12 | 2 | 25 | 1 |
| G Edmunds | 12 | 6 | 23 | 1 |
| I Woods | 12 | 5 | 14 | 1 |
| R Courts | 11 | 1.3 | 23 | 0 |