1st. XI v. Coventry & North Warwickshire 2's
WCCL South East Group A
45 overs win/lose
WIN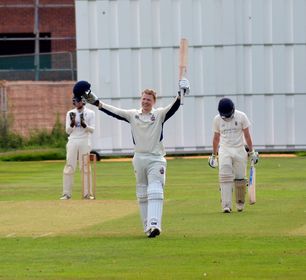 Kenilworth 295-7 (45 overs) (20 points) beat Coventry & NW 2's 194-8 (45 overs) (6 points) by 101 runs
Kenilworth's Tom Booker brilliantly blasted a memorable ton in the side's 101 run win over Coventry and North Warwickshire 2's at the Club's Warwick Road Ground.
He made a magnificent 134 that included 12 boundaries and six 6's.
His innings also won him Performance of the Year that was presented at the Club Awards for the 2020 season later that evening.
He helped the side reach 295-7, their highest score of the season, sharing in a 148 run 3rd. wicket partnership with skipper, Connor Shingler, who made 55 (4 x 4) as the pair took total control. Jono Sparks was unbeaten on 27 when the innings closed, whilst Adie Sellar had earlier made 19. Water took 3-42 for CNW, Sharp 2-33 and Biggs 1-51.
In reply, CNW were always behind the required run rate despite the best efforts of Biggs who made 55, Sharp 28 and Lilley an unbeaten 24 and the side ended the day on 194-8, well short of the target. Steve Rhodes and Darius Potten-Ravenshad both took 2-36 for the Town side, Henry Curran 2-37 with a wicket a piece for Sparks and Joe Atkinson on a day to remember for Booker and his sublime batting performance.