Following the penultimate league games in the WCL (Warwickshire Cricket League) and final game of the CHL (Cotswold Hills League) on 3/9/22 the club held it's annual end of season awards presentation.
Despite below average team results in all 3 league campaigns, there were many individual achievements and contributions to celebrate.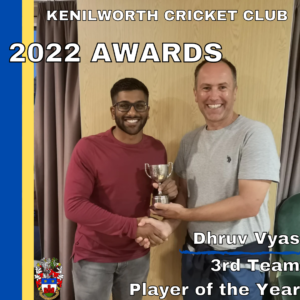 Beginning with the third team, captain Stephen Kelley presented Dhruv Vyas with the player of the year award for his all around performances in the league. Finishing with 284 runs at an average of 22, a high score of 63 against Coventry Blues. Alongside his power hitting Dhruv contributed in the field with a couple of bowling wickets and 4 catches.
Other mentions included Dan Hone taking 16 wickets in the season with a best of 4/30, alongside numerous contributions from colt players making their first senior appearances and holding their own in league cricket. Including 3 games from Katie Farrell, marking a first in the club's 119 year history.
Captain Dave Smithson presented Dan Horner with the player of the year award for the second XI where, despite only playing 9 games, he finished with 366 at an average of 45, high scoring with 91 against Leamington Khalsa. Dan also contributed behind the stumps as he took 11 catches, a single stumping and a run out with the gloves for the second XI.
Again Dave played tribute to the number of junior players breaking through as senior and 2nd team regular players in the season. Including Sam Davies with 16 league wickets, and fellow colt Tom Best taking 11. With more senior figures in the team also having their contributions acknowledged, Ben Clarke with 17 wickets and Dave Gamble 16 victims at an average of 17.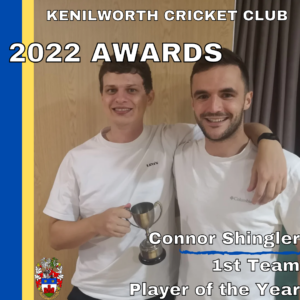 Connor Shingler received the first of 4 awards presented by first XI captain Joe Atkinson as his player of the year. Averaging 28 with the bat for a total of 490 runs, top scoring with a run a ball match winning 118* against Standard. Backed up with 32 wickets at an average of 20.
Other mentions for the 1st team included Atkinson himself with 31 wickets and 561 runs. Also Stuart Cope with 381 runs and 29 wickets.
Atkinson then presented Dan Horner with this second award of the evening for his "Performance of the year" 116 vs Hampton and Solihull to help the 1st XI win the game chasing down a target of 300.
The penultimate award of the evening was the Colt Cup presented to Joe Tate for his achievements in senior cricket this season. Sitting on a total of 773 runs at an average of 24 heading into the final weekend of the season. Tate also showed fine form with the ball hauling 19 wickets at an average of 26 alongside his 15 catches and 2 run outs in the field.
Joe is one of a number of under 15 and 16 players to have a break out year playing junior and senior cricket at Kenilworth this season. We all look forward to seeing the colts continue to develop and push each other, and more senior members, over the coming seasons.
Finally Joe presented Louis Smithson with the Pratt Cup, for most improved player. Louis another successful player from the youth section, netting 656 runs at 26, including 4 50's, with his maiden 50 only coming this season. Louis has also contributed with the gloves taking the main spot in the 2nd XI and 17 victims in the season.